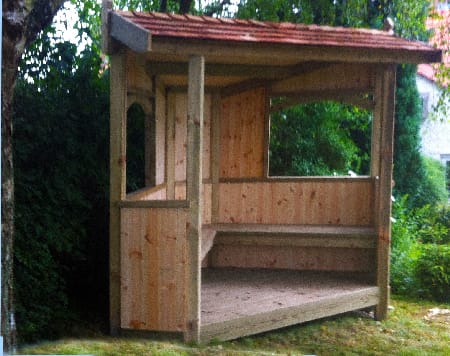 Gazebos and rain shelters
England may be a "green and pleasant land", but that is because it does have a fair amount of wind and rain mixed in with all that gentle sunshine.
Making the most of the summer is therefore a bit of a challenge. Summer is so short, who would want to waste any part of it?
Fortunately, there is a very simple and remarkably cheap solution, one that will last for many years, add height and interest to your garden features and whose cost, when divided by the years it will offer service, will probably be cheaper to buy than your hanging baskets.
Whether you seek a corner feature like the one pictured here, or a pavilion style that will accommodate a table and seating, we can build it for you. Often this is a perfect way of adding a little privacy to a garden, or to make the best use of a quiet shady corner.
We can also create bespoke pergolas, garden bench and table seating and much more, so if you want something wooden and tailored to your individual needs, we are always happy to give you a quotation.
For more about Gazebos, call us on 01494 715416 or fill in the enquiry form here